Derwent Seat/Bench - Recycled Plastic WoodFrom: £194.00
Brightly coloured, Easy to Clean and Fade Resistant. A wonderfully maintenance-free bench to brighten up the day. Avaialble in Lengths 1200mm and 1500mm.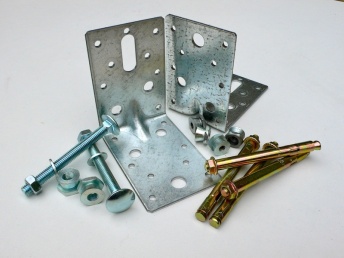 Ground Anchor | Security Kits for Outdoor FurnitureFrom: £21.00
Ground Fixings (Simson Strong Ties) for benches and picnic tables - short bolts for fixing to flags, or longer bolts for fixing into concrete. These will help deter thieves from absconding with your outdoor furniture. No guarantee is implied, as determined rascals with the right tools can remove any kind of security, but you don't want to make it easy for them. All components made from rust resistant steel and supplied with shear nuts whose outer section breaks off once tightened, making them impossible to remove with a spanner or socket set.


Irwell 3 seater garden benchFrom: £454.80
The Irwell 3 Seater Bench in Recycled Plastic, like the river it is named after, will last a very long time without any maintenance, repair and certainly without replacement. Why on earth would you buy a wooden one when this looks so good, needs no looking after and never rots?
Ribble Planter Bench - Recycled PlasticFrom: £717.60
This novel Planter Bench combination is a recycled plastic bench, flanked by two planters - a simple but practical way to use the space you have intelligently, and enjoy sitting among the flowers on a clear sunny day.


Thames Children's Multicoloured Bench£194.00
Another one of our lovely looking multicoloured benches for children made from Recycled Plastic that looks and feel like wood.


Thames Garden Bench - 3 Seater | Recycled Plastic Wood£343.00
A beautiful 3 Seater Garden Bench made from British Recycled Plastic (synthetic wood) - manufactured from crushed CD cases and old coat hangers. Fully assembled and delivered on a pallet to safeguard it during transportation. UV protected against fading it can be left outside all year round. Will never rot or require maintenance or paint. No splinters for little fingers. Will outlast any wooden garden or park bench by decades.