Paving and Ground Reinforcement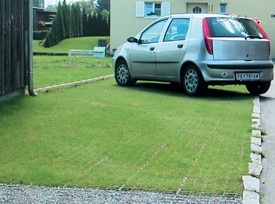 High Quality Drainage and Ground Reinforcement Grids or Permeable Paving Grids
sold by the square metre, made entirely from British sourced waste plastic.
No planning permission needed.
Avoids adding to UK flooding risk and can even be planted with grass seed or sedum.
For larger quantities please call: 01282 861325.
| | | |
| --- | --- | --- |
| £17.65 - £846.42 inc. VAT | £4.79 - £5.18 inc. VAT | £15.00 - £22.50 inc. VAT |
| £145.25 - £184.96 inc. VAT | £5.96 inc. VAT | £60.71 - £65.57 inc. VAT |
| £57.03 - £76.00 inc. VAT | £61.88 - £68.12 inc. VAT | £17.97 - £56.86 inc. VAT |
| £27.60 - £85.27 inc. VAT | £26.96 - £83.51 inc. VAT | £27.26 - £89.80 inc. VAT |
| £68.84 inc. VAT | £4.79 - £5.18 inc. VAT | £45.60 - £252.00 inc. VAT |
| £13.20 inc. VAT | | |