Description
Recycled Plastic Decking | Mixed Plastics
No Maintenance Required – reduced lifetime cost
Recycled plastic decking can be used wherever you might expect to see wooden decking boards
Wood is expected to lose its good looks and struggle to survive for more than a few years.
Like all our recycled plastic decking boards, 150 x 38 boards are impervious to moisture, mould and insects and will maintain their appearance for decades without any maintenance other than cleaning with soapy water and brush or jet spray.
The type of recycled plastic used for the manufacture of this recycled plastic decking comes from all the plastic waste thrown out by British households every week and is made to Kedel's ULTRA Specification or Robust Specification standards.
Long-Life and Low Carbon Footprint
This means that investment in refurbishment using recycled plastic decking of this type has a long-term value, requires little or no additional maintenance, looks good throughout its 50+ years life, AND has a low carbon footprint which will become a building and refurbishment requirement by 2016.
Use of Recycled Plastic for Decking has the added advantage of keeping a wide variety of plastics out of landfill sites.
Why pay for expensive landfill when 30% of what we are putting in it is plastic that can be turned into something genuinely useful with a long list of financial and ecological advantages.
Use of recycled plastic decking in new build and construction projects or for the refurbishment of existing facilities is both highly economical as well as ecologically sound.
Cost Comparison Study – Recycled Plastic Decking vs Wood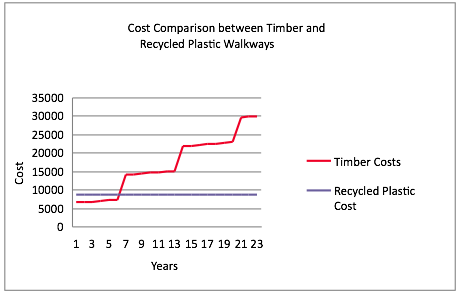 A Cost Comparison Study conducted by WRAP (Waste Resources Action Programme), an independent body supported by all 4 UK Governments, found that wooden Decking needs maintenance in as little as 2 years with complete replacement in around 7 years.
The slightly higher initial outlay is quickly returned through long term savings in maintenance and replacement costs, plus the finished product looks good for a lifetime.
It doesn't get much better than this in the current financial climate.
For more info on Kedel Decking Products please call 01282 861325 or email sales.