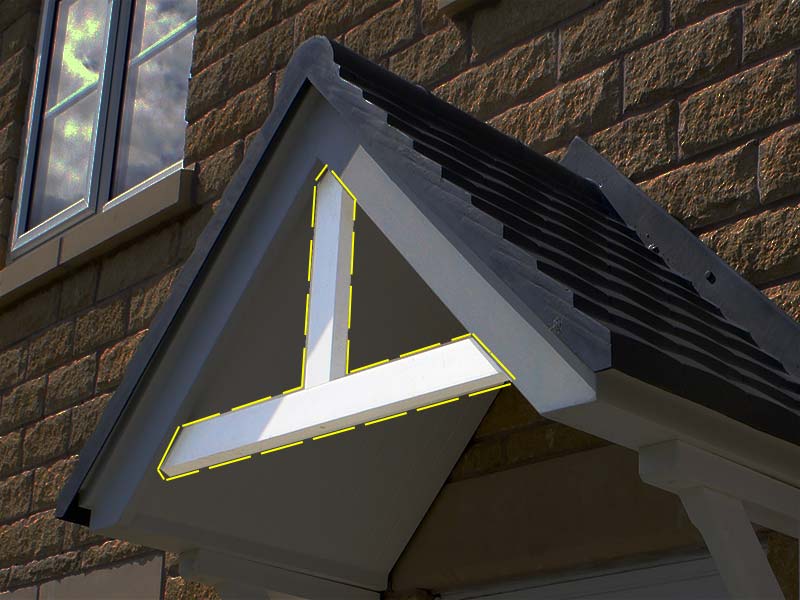 Canopy Porch Pediment | Plastic Wood | Recycled Plastic£20.33
If you are tired of rotten wood try a recycled plastic pediment instead. No painting, UV stable, Never rots. No cost of ownership.


Pair of Recycled Plastic Porch Gallows Brackets | Synthetic WoodFrom: £23.00
Porch and Canopy Gallows brackets in recycled plastic do not rot and never need painting. Get the traditional look and feel of wood but with all the advantages of plastic. Sold in pairs. Standard white, but bespoke colours on request.


Recycled Plastic Synthetic Wood - Cladding T&G - 125 x 15mmFrom: £15.75
125 x 15mm Tongue and Groove Boards in recycled plastic wood or synthetic wood outperforms any wood equivalent in every way. They will never rot. Water and frost proof they do not warp, crack or splinter. Use for shed cladding or inset into metal frames gates. Never need paint as the UV protected colours are embedded in the plastic during manufacture and do not flake or peel.
Recycled Plastic Wood - 100 x 30mmFrom: £24.15
Use Recycled Plastic Wood 100 x 30mm can be used like our 100 x 40mm for window sill construction, door frames, picnic tables and benches and general building where the appearance and feel of wood is required. Also suitable for the Z - frame on back gates along with our tear drop T&G. Wood is great except for the maintenance issues. Our Plastic Wood looks like real wood but never rots, never needs paint or preservatives. Need we say more?


Recycled plastic wood - 70 x 30mmFrom: £16.65
Ideal for benching, picnic tables and other garden furniture, also for window construction. Can be routed and sawn just like wood.