Nanpan Patio Chair£273.05
This Recycled Plastic Patio chair looks wonderful and stylish and is very comfortable to sit on. The colour is UV protected against fading and will never rot. Easy to keep clean and impervious to frost, insects and mould. Expect it to continue looking good and to last for decades without any maintenance. The Nanpan chair is supplied flat packed to reduce shipping and is easy to assemble. Available in green or blue. Other colours on request.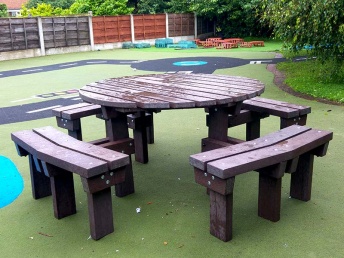 Round Picnic TableFrom: £642.00
Available in 3 Sizes: Nursery, Junior, Adult. Extremely robust and long lasting. Weather Resistant all Year Round.


Thames Chair - recycled plastic wood£145.00
Although it looks and feels like wood, it will never rot and the UV stable colour is embedded in the plastic so no need for painting.
Thames Companion Seats - Recycled Plastic Wood£336.50
A traditional companion seat made from Plastic Wood that does not rot, never needs paint and is unlikely to need replacement for decades to come.


Thames Garden Table | Synthetic Wood | Recycled Plastic£360.50
This is a unique table in plastic wood manufactured from crushed CD cases. Never rots, and can remain outside all the year round.