Does Your Wooden Decking Rot?
Tuesday, 16 January 2018 | Lewis
Does Your Wooden Decking Rot?
That's a daft question because of course it does!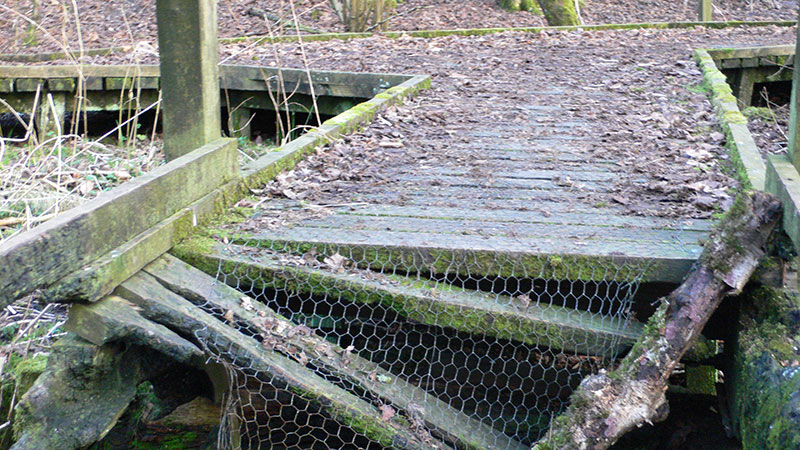 The Ultimate Solution to Rot

There's a permanent solution that also keeps tonnes of waste plastic out of landfill and incinerators -­‐ an important consideration now that China and Hong Kong no longer accept our plastic waste. Where is it going to go? … well, we could turn it into something useful and eco-­‐friendly.

Recycled Plastic Decking does not rot.

Scientists say it takes about 450 years to break down plastic and that's an estimate. At the very least it will last for several generations and the beauty of this solution -­‐ it's not just Low Maintenance, it's No Maintenance. This commercial decking has a steel reinforcement inner for heavier loading.
The Costs -­‐ Recycled Plastic vs Wood

WRAP* conducted a study comparing the cost of a wooden walkway with a recycled plastic alternative.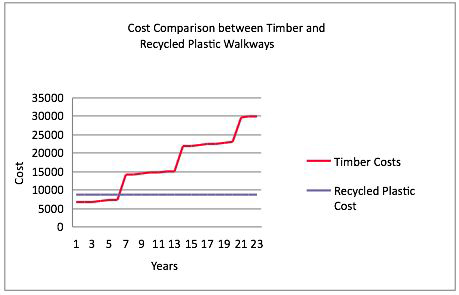 Once installed recycled plastic needed no more spending on it over the 25-­‐year period of the study, whereas wood needed maintenance after 1 year and complete replacement every 7 years as seen on this graph. That's a lot of labour and material costs. It's far, far cheaper, to put in a recycled Plastic solution in the first place.

Maintaining Appearances

Besides which, recycled plastic decking stays looking good throughout that time, while wood begins losing its looks after the first year. A high level of UV protection avoids colour fade and the materials are guaranteed for 25 years against manufacturing faults. Once installed the only treatment required for recycled plastic decking is occasional cleaning and only when it looks like it needs it.


Slip Resistance

Issues with algae can make a wooden deck like an ice rink and it is not uncommon to find public walkways covered with chicken wire to minimise the risks. After a while the wire breaks and itself becomes a trip hazard like this example in Moses Gate Country Park near Bolton.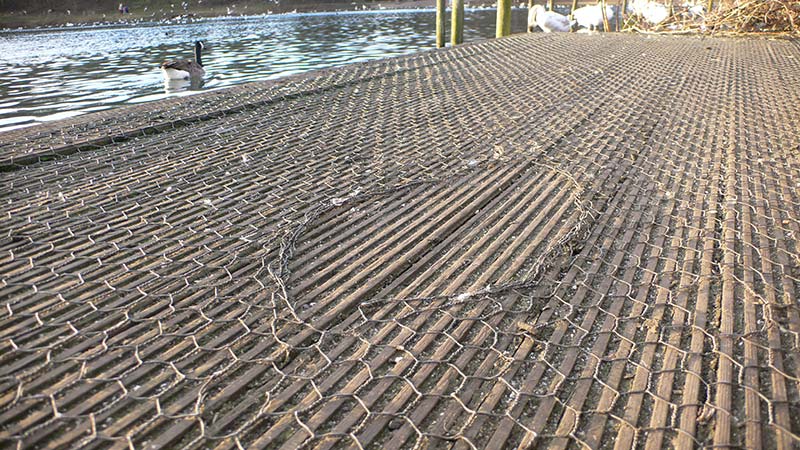 Recycled plastic decking from Kedel Limited in Burnley has better slip resistance than wood even when wet according to independent tests. Also, green algae cannot bed in. Can be mopped off with normal domestic detergent and water or simply jet spray it.
Where to Get Maintenance Free Decking

Kedel Limited, based in Burnley, manufacture and supply several types of 100% recycled plastic decking for both domestic and commercial applications. For more info and quotes contact sales@kedel.co.uk or call 01282 861325 option 2.
* WRAP is an independent body set up in 2000 by all UK Governments to help recycling take off in the UK and to create a market for recycled materials.