WRAP Study
WRAP* Study Comparing Costs of
Recycled Plastic to Timber
in Construction of a Walkway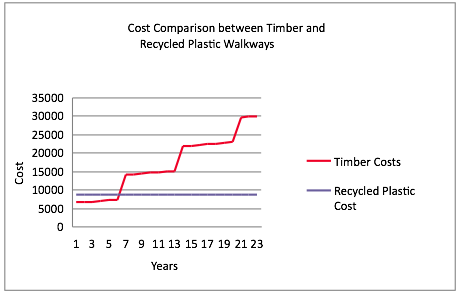 Recycled Plastic Payback
This example of comparative costs between timber and Recycled plastic lumber, is taken from a walkway, but its obvious conclusions can be applied to most situations where the two materials would be permanently outdoors, continually at the mercy of the elements.
Assumptions
Timber solution must be replaced every 7 years. Maintenance on timber is required annually from year 2. Inflation is not applied to the annual cost of maintenance. The average annual cost of maintenance of materials and labour is £176 per annum.
Average Cost
per 100 meters of walkway over the time shown:
Timber £1300 - Recycled Plastic £370
Conclusion
Although the initial outlay for recycled plastic is higher, the long-term costs are very significantly lower compared to treated timber.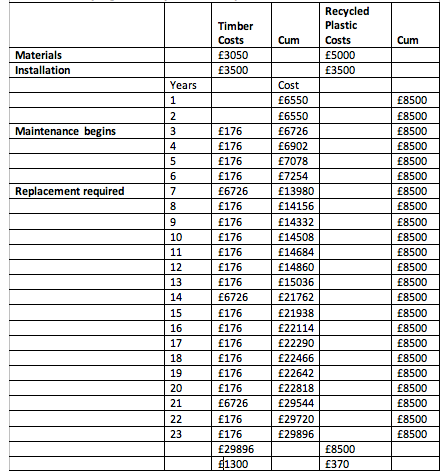 * WRAP is an independent body set up in 2000 to help recycling take off in the UK and to create a market for recycled materials. WRAP is funded by all four governments across the UK and the EU and run programmes in England, Scotland Wales and Northern Ireland.