WRAP* Study
RECYCLED PLASTIC VS TREATED WOOD / TIMBER IN CONSTRUCTION OF A WALKWAY
COST IMPLICATIONS - IMPACT OF THE ELEMENTS
Although this comparison of costs is derived from construction of a walkway, it's obvious results can apply to any situation where the two materials would be continually be exposed to water and at the mercy of other adverse weather conditions outdoors.
The study was conducted in early 2000s by WRAP*, but the implications are still valid today, though figures would be different.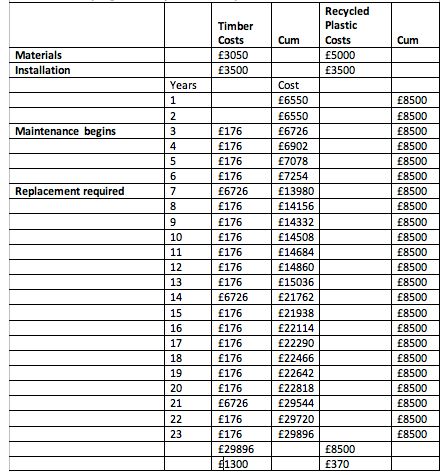 ASSUMPTIONS
In the case of wood, it is assumed that maintenance will be undertaken annually after 2 years, and replacement be necessary after 7 years.
The annual cost of maintenance involving both labour and materials is averaged at £176 per annum. This figure does not take account of inflation.
AVERAGE COST
In the time period illustrated, a 100m walkway cost £1300 in timber and just £370 using recycled plastic materials.
CONCLUSION
The costs are initially higher for recycled plastic but the lifetime costs very much lower compared to treated wood.
* WRAP (Waste and Resources Action Programme) , established in 2000, is an independent body funded by all 4 UK Governments and the EU, with responsibility for promoting recycling programmes throughout the UK.