Why choose eco plastic fencing?
There are numerous reasons why we think Recycled Plastic Fencing is a much better, safer and more logical choice compared to any other wooden alternative. Firstly, eco fencing made from recycled plastic will never need painting or staining. Unlike wooden or timber fencing, plastic fence boards and recycled plastic posts are impervious to the elements so they will never rot or deteriorate. They're low carbon and incredibly eco friendly. Our plastic fence boards and plastic fence posts are made entirely from recycled waste plastic that would otherwise be destined for landfill, incineration or the ocean. It's tougher and more durable than composite alternatives. Composite building materials are made of a combination of plastic and wood chip/sawdust. Composite material for fencing may be better than plain, untreated wood, but it will still eventually deteriorate due to damage from water, frost, insects and fungi. Eco fencing made from recycled plastic on the other hand is so much tougher because it does not contain any wood chip/sawdust mix.
Choose Maintenance-free Fencing in Recycled Mixed Plastic or in Plastic Wood Extruded Recycled Polystyrene) Reduce maintenance and replacement costs by 100% Download mixed plastic fencing brochure
PRODUCT ADVANTAGES OF ECO FENCING
More durable than wood - lasts 5 times longer, reducing maintenance costs by 80%
Vandal proof - can't be kicked through
Graffiti easy to remove
Less flammable than wood
No maintenance needed
Water, frost and insect proof
Attractive and versatile - all styles available
High level of UV protection against fading
Easy to install
High performance recycled plastic, independently tested
Eco-friendly - recycled and fully recyclable
Recycled plastic can also have many unexpected side benefits for the community, in addition to its obvious contribution to protecting the environment and keeping waste plastic out of landfill.
THE SOCIAL ADVANTAGES - (CASE STUDY)
Kedel can manufacture fence panels for you. However, an approach favoured by many local authorities and housing associations throughout the UK is to employ local labour, bringing great social benefits. Young people from disadvantaged neighbourhoods have been brought into the labour market as well as many long-term unemployed with relevant skills to use and pass on.
Provides the unemployed with new skills, experience and confidence
Brings old and young together in a way that provides a new sense of closeness
Generates a sense of pride from the improved appearance of the neighbourhood
Helps to solve problems of vandalism and anti-social behaviour
Contributes to the local economy
RECYCLING EDUCATION - AN IDEAL TOOL
This approach - involving local people in upgrading their own environment with recycled plastic fencing - is also an educational tool, showing communities where their recycled plastic goes, and motivating everyone to recycle more enthusiastically.
RECYCLED MIXED PLASTIC LUMBER
(TECHNICAL SPECIFICATION DOWNLOAD)
All recycled plastic is not the same. Kedel uses two types of recycled plastic with different properties, both of which can be used for fencing as well as other construction projects. People often ask us about the difference between our recycled plastic wood and recycled mixed plastic lumber. Our mixed plastic is a polymer composite combining the stiffness of polystyrene with the impact resistance of polyethylene (polythene). This mixture of waste plastics means that it is more difficult to create a variety of colours, and we usually only offer black and brown. Other colours in mixed plastic are more costly to produce because the waste plastic requires more careful sorting by hand, which is expensive.
RECYCLED PLASTIC WOOD (WATCH VIDEO, PLASTIC WOOD, WHAT IS IT?)
Kedel's Recycled Plastic Wood is made from recycled polystyrene. The Kedel's recycled plastic wood is made from recycled polystyrene. The polystyrene is heated to melting point with a blowing agent to make it expand a little and pigment is added to produce the desired colour. By using different additives and varying the temperature at different stages of the extrusion process, this plastic wood can be made to mimic any kind of wood and can be produced in any real colour. After melting and mixing the ingredients it is extruded slowly through a metal die and gradually cooled, resulting in a plank with similar density and weight of many south American hardwoods. It can be used for fencing as well as outdoor furniture, picnic tables, garden and park benches, as well as gardening products like planters and raised beds.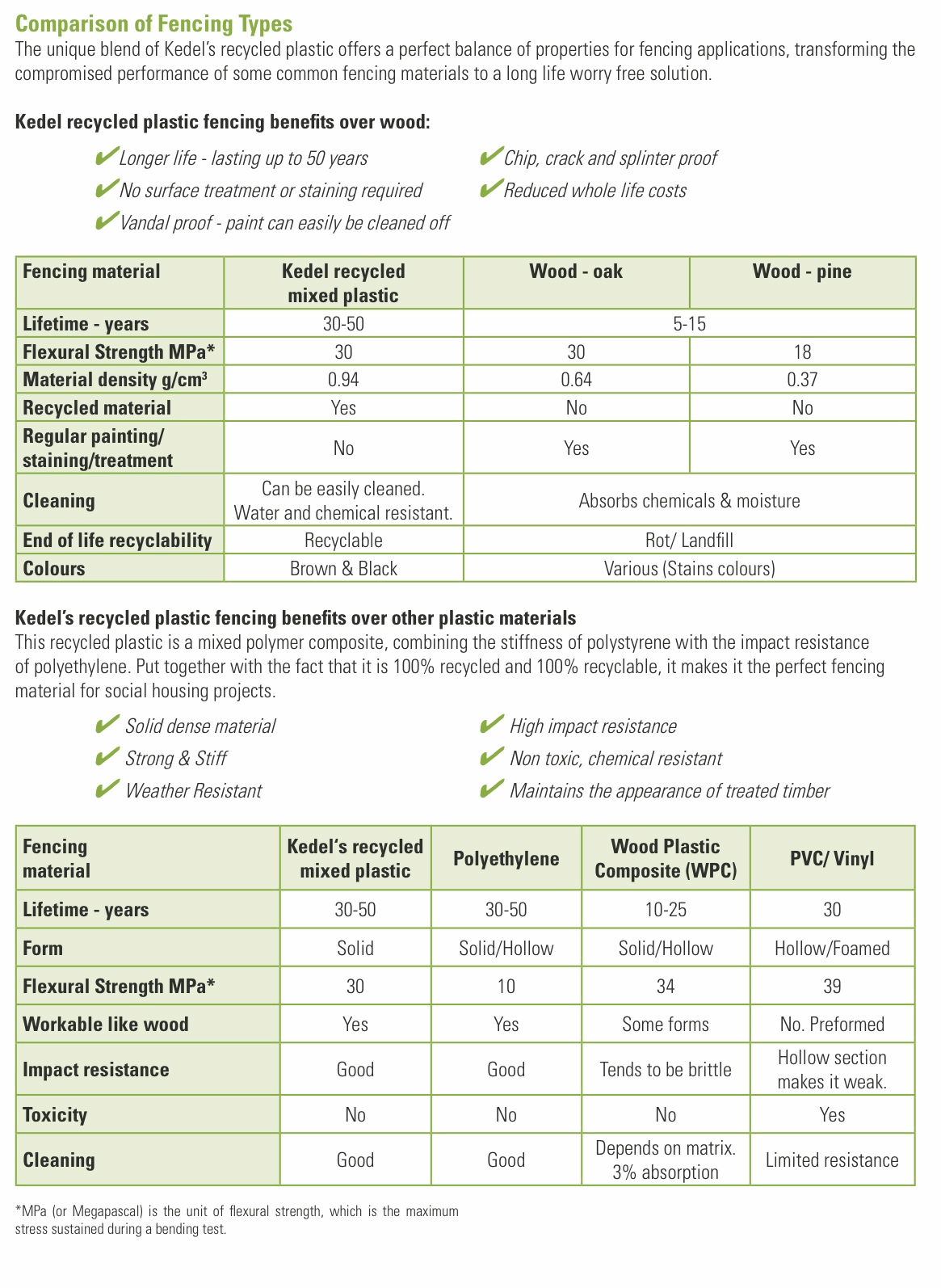 AVOID WOOD/PLASTIC COMPOSITE
Wood/Plastic composites are a mixture of plastic and sawdust or wood flour, extruded through a die into planks. It has good rot resistance, and is often guaranteed for up to 25 years. Wood/plastic composite has a similar look and feel to wood, partially due to the wood content which is around 55%. We have considered supplying this type of product, but a couple of chance encounters with people who have used it discouraged us for the time being. A man came to talk to us on our stand at Greenbuild Expo, Manchester 2012. His 120 sq metres of wood plastic composite decking had been recently laid, and water had been absorbed by the wood component of the decking boards causing the whole deck to warp. He asked if our 100% recycled plastic product would perform any better, which it will of course, as it is totally non-absorbent and frost proof too. This warping was not covered by the warranty because, he was told, the boards had been laid incorrectly and should have been laid at a slight angle to avoid water standing for long periods on top of the boards. It was in the small print.In June 2007 a UK Forestry Commission briefing note had this to say about wood/plastic composites:
"It seems clear that the marketing of WPC products was over ambitious in its rot free claims and low maintenance. In the USA, the promotion of WPC as rot free and not requiring wood preservatives was challenged as scientific evidence arose of the growth of decay fungi in WPC in service and the failure of WPC boardwalks in the southern states of America after a few years of service". WPC can of course incorporate zinc borate wood preservative, though this addition of preservative is not ideal. One of the many advantages of 100% recycled plastic is that it is completely waterproof inhibiting the growth of any type of algae or fungi. Even if after some time a little green film does appear, it can be easily mopped off or jet sprayed. Since there is no ingress into the recycled plastic and nothing can take root there to cause disintegration of the product. It is no exaggeration to say that it will last more than 5 times longer than wood. It will also of course last longer than wood plastic composite. Watch our case study video below for more information on the pros of plastic fencing.