With recycled plastic decking board, you'll never need to replace a single one of our boards. ... Our eco-friendly recycled plastic decking boards requires zero maintenance, saving you time and money on annual upkeep expenses. They're entirely impervious to water, frost, insects, fungi and algae. For tips on keeping your recycled plastic decking board looking like new, check out our video on How To Clean Decking Board. We also have a helpful Installation Guide (Includes recommended decking support centres) and a handy quantity calculator, so you know exactly how much you will require. Need more convincing? Check out this case study video so you can see our products in further detail.
Trouble free Eco decking for life!
If you enjoy maintenance work on your decking and replacing it every few years, buy treated timber or a plastic/wood composite decking with wood flour/sawdust or other fillers in it. Both will keep you busy with maintenance and replacement unless you don't care what it looks like. Both will absorb moisture and be subject to water, mould and frost damage. In fact, the plastic and wood composite decking has to be laid at a slight incline to avoid standing water which may be absorbed by the wood content and when heated by the sun will warp, which can often invalidate warranty.
Only 100% recycled plastic decking board will save you the time and trouble of maintenance and replacement. Put it down once and forget it for the rest of your life. No warping, no cracks, no splinters. Our maintenance free decking boards not only last forever but look great forever too. Even green algae mops off effortlessly, and it will NEVER rot or be eaten by insects. High levels of UV protection mean fading is only around 5% over 10 years. If you have never made a deck before take a look at our Decking Installation Guide and watch our video below.
The gaps allowed between supporting joists depend on the type of decking you decide on. Details of spans allowed for different types of recycled plastic decking are contained in the last page of the decking installation guide.
How long does it take for wooden decking to look like this?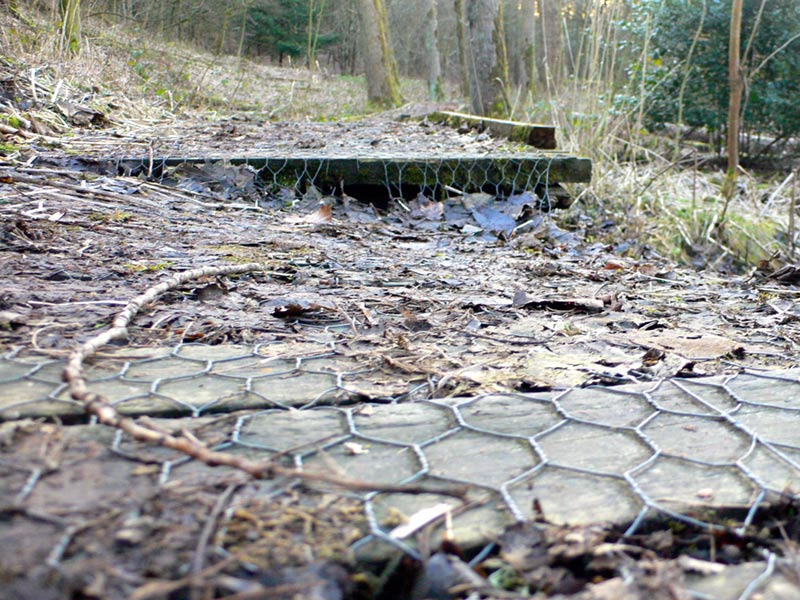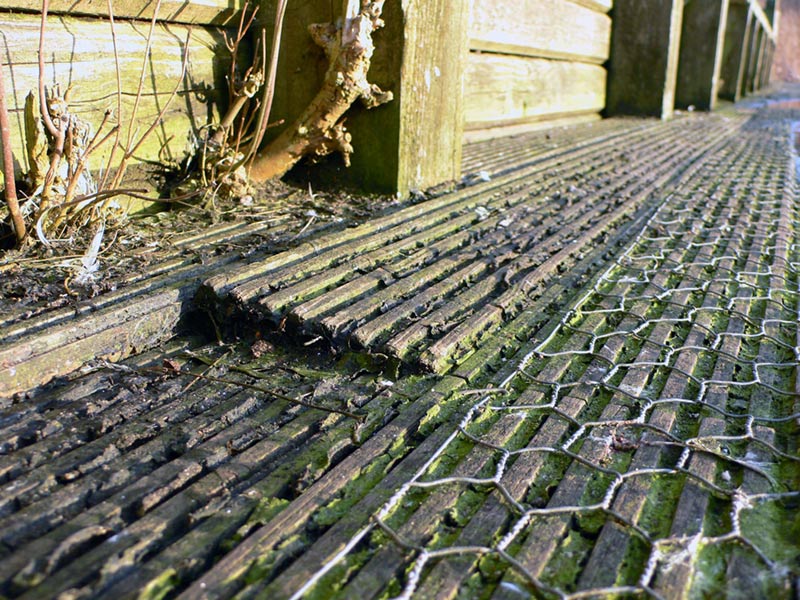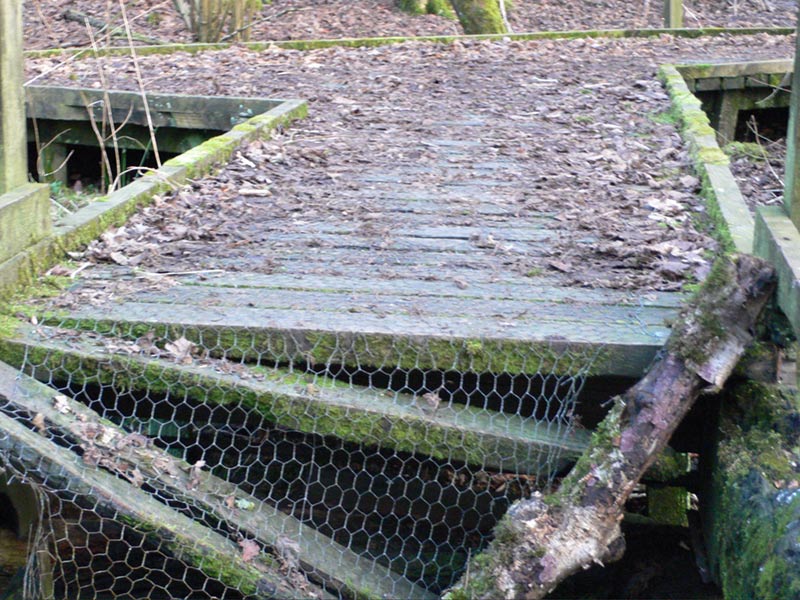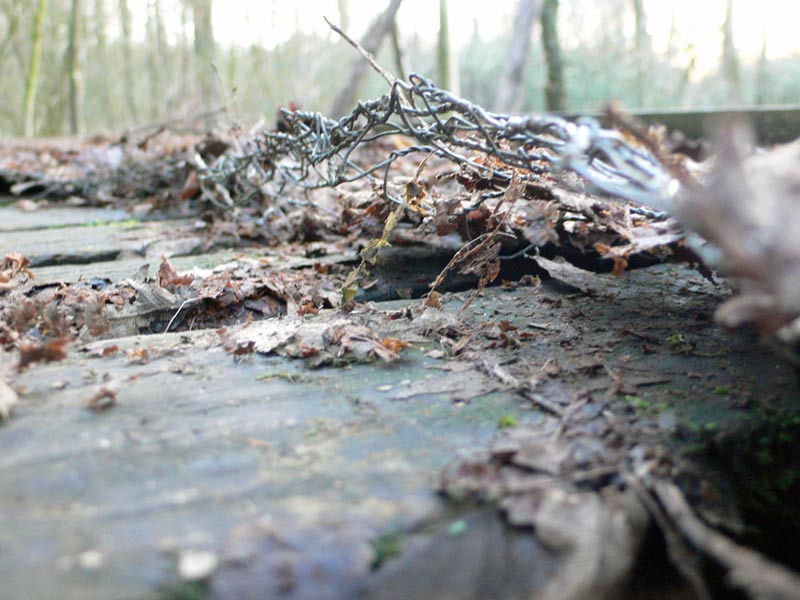 Maintenance annually and replacement in about 7 years. This has been the accepted tradition till now. Recycled Plastic Wood Decking changes everything, from maintenance requirements, which will completely disappear, to replacement, which is unlikely to be needed in our lifetimes unless we start having earthquakes in the UK.
You see chicken wire in use here at Moses Gate Country Park near Bolton, which is meant to help prevent slipping on the green algae that builds up over time. The chicken wire was not installed initially but became essential after about a year. Unfortunately you can see that it soon becomes a trip hazard itself with regular breakages in heavy traffic areas. Algae beds into wood grain and for this reason is difficult to eradicate as even after cleaning the remaining algae embedded in the wood soon returns. Recycled plastic is impervious to mould. It cannot penetrate the surface and is easy to completely remove with a stiff brush or jet spray even if it eventually appears on the surface. Customers tell us it takes about 3 years before it appears and this is because there is nothing substantial for it to adhere to on a Recycled Plastic Decking Profile.
No Maintenance Required - reduced lifetime cost
Recycled plastic wood decking can be used wherever you might expect to see wooden decking boards.
Wood is expected to lose its good looks and struggle to survive for more than a few years. Like all our recycled plastic decking boards, 150 x 38 boards are impervious to moisture, mould and insects and will maintain their appearance for decades without any maintenance other than cleaning with soapy water and a brush or jet spray. The type of recycled plastic used for manufacture of this maintenance free decking comes from all the plastic waste thrown out by British households every week and is made to Kedel's ULTRA Specification or Robust Specification standards.
100% British Recycled Plastic
Kedel mixed plastic decking is 100% British Recycled Plastic. Plastic milk bottles, old plastic buckets, and other assorted plastic containers are first cut into flakes, and then melted down and mixed, before being forced under pressure into a steel mould. The finished product is a solid, heavy duty, robust material widely used for decking by local authorities and other institutions for public areas which take heavy traffic all the year round.
No maintenance required

No painting, varnishing or preservatives

No splintering or cracking

Never gets waterlogged and is immune to the ravages of frost and water that destroys most other materials
Long-Life and Low Carbon Footprint
This means that investment in refurbishment using recycled plastic decking of this type has a long term value, requires little or no additional maintenance, looks good throughout it's 50+ years life, AND has a low carbon foot print which has become a building and refurbishment requirement since 2016. Use of Recycled Plastic for Decking has the added advantage of keeping a wide variety of plastics out of landfill. Why pay for expensive landfill when 30% of what we are putting in it is plastic that can be turned into something genuinely useful with a long list of financial and ecological advantages. Use of recycled plastic decking in new build and construction projects or for refurbishment of existing facilities is both highly economical as well as ecologically sound.
Cost Comparison Study - Recycled Plastic Decking vs Wood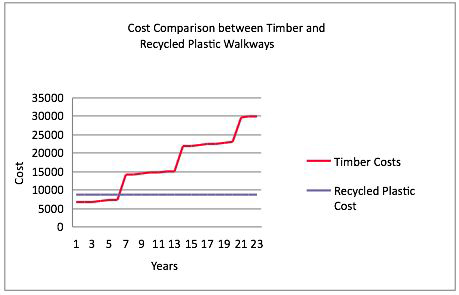 A Cost Comparison Study conducted by WRAP (Waste Resources Action Programme), an independent body supported by all 4 UK Governments, found that wooden decking needs maintenance in as little as 2 years with complete replacement in around 7 years.
The slightly higher initial outlay is quickly returned through long term savings in maintenance and replacement costs, plus the finished product looks good for a lifetime.
If you use treated wood you can expect to replace your decking 4-5 times over a 25 year period instead of just once in a lifetime for recycled plastic wood decking.
It doesn't get much better than this - zero maintenance and replacement.
Practical Examples of the Economic Benefit of Recycled Plastic Decking
An excellent example of the cost savings and no maintenance advantages of Recycled Plastic can be seen in a Your Housing Fencing Refurbishment Project in Partington, South Manchester. Your Housing's Partington Manager, Paul Stanners says "I thought it was rather expensive to begin with, but since we began installing these panels we have not had to replace a single one in over 5 years. Our maintenance and replacement costs have completely disappeared." Your housing used the same material for their fencing as is found in our Recycled Plastic Decking and the advantages are the same. Savings are made both from eliminating labour costs as well as that of materials for maintenance and the cost of inevitable replacement. Recycled Plastic Eco Decking installation need only be done once. You wouldn't expect to replace it again in your lifetime and when/if you do, you can recycle it again.
COMPOSITE DECKING VS RECYCLED PLASTIC DECKING - WHAT'S THE DIFFERENCE?
You've probably heard of the term composite decking or composite wood before. But do you know what makes it different to our Recycled Plastic eco-decking boards? Well first of all, composite decking or composite wood is made partly from virgin plastic or recycled plastic. Sounds good so far right? Well, not entirely. You see composite decking boards are part plastic and part wood. This brings up some notable disadvantages of composite decking. Composite wood/decking can be made from sawdust and wood chip to wood fibre pieces. These wood fibre pieces that make up part of the composite decking material are still susceptible to damage from rot, water, frost, insects, fungi and algae. Even if treated, wood naturally biodegrades over time, that's a fact. Our Recycled Plastic Decking Board however NEVER rots. As we all know, plastic is completely impervious to water, frost, insects, fungi and algae. Our eco plastic decking is made entirely from waste plastic too. We don't add to the production of new plastics, we simply take discarded plastic destined for landfill or the oceans, and turn it into rot-proof, maintenance-free recycled plastic decking. Our plastic decking materials are 100% recyclable too. The UK Forestry Commission had this to say in a 2007 briefing note regarding wpc decking:
"...the marketing of WPC (Wood Plastic Composite) products was over ambitious in its rot free claims, and low maintenance. In the USA, the promotion of Wood Plastic Composite Decking as rot free, not requiring wood preservatives was challenged as scientific evidence arose of the growth of decay fungi in WPC in service, and the catastrophic failure of WPC boardwalks in the southern states of America after just a few years of service".
Slip Resistance of Recycled Plastic Decking
Green algae accumulates on the surface of all decking after a few years, but cannot bed into the grain of Recycled Plastic as it is not porous. Kedel's Maintenance Free Decking can be jet sprayed or even removed with a mop or stiff brush and soapy water. Algae cannot find a hold on 100% Recycled Plastic. Slip resistance tests indicate better slip resistance than wood in both wet and dry conditions. Ben Jones, Contracts Director, P&D Environmental had this to say: "Our first thoughts were it's going to be really slippery and really dangerous, but once we got working with it and got on it and walked around on it we were very surprised to be fair".
Decking Strength and Flexibility
Our Decking Product Leaflet lists all the various types of decking profile we offer and the last page includes the specification sheet with advice on maximum span between supports and unsupported span recommendations. The Decking Product Specification Sheet can be downloaded or printed. Recycled Plastic Decking Profiles are slightly more flexible than wood depending on the thickness of the profile, each designed to suit a particular range of applications. The 150 x 38mm eco decking is extremely tough and can put up with years of use with little or no wear.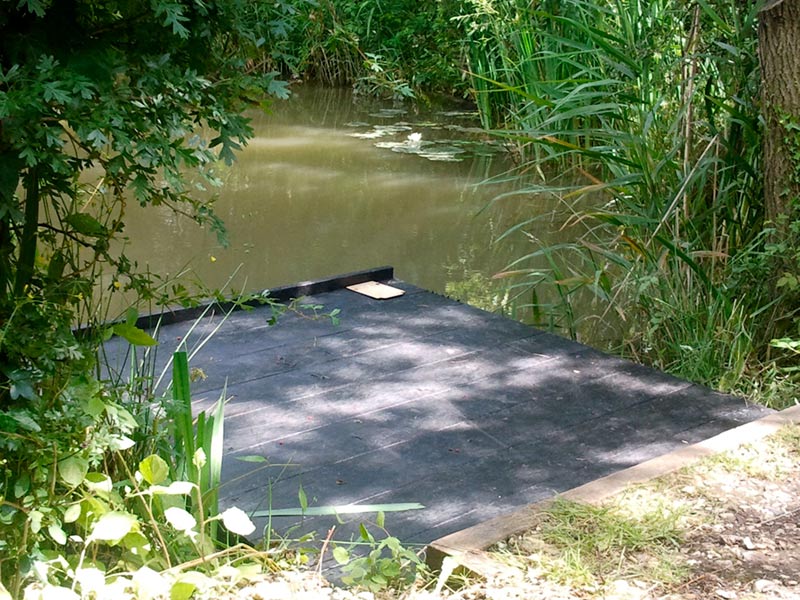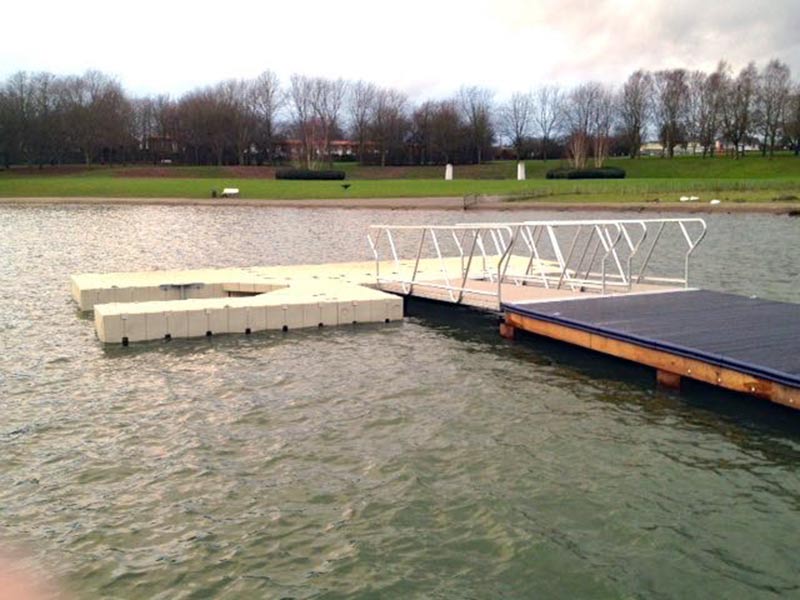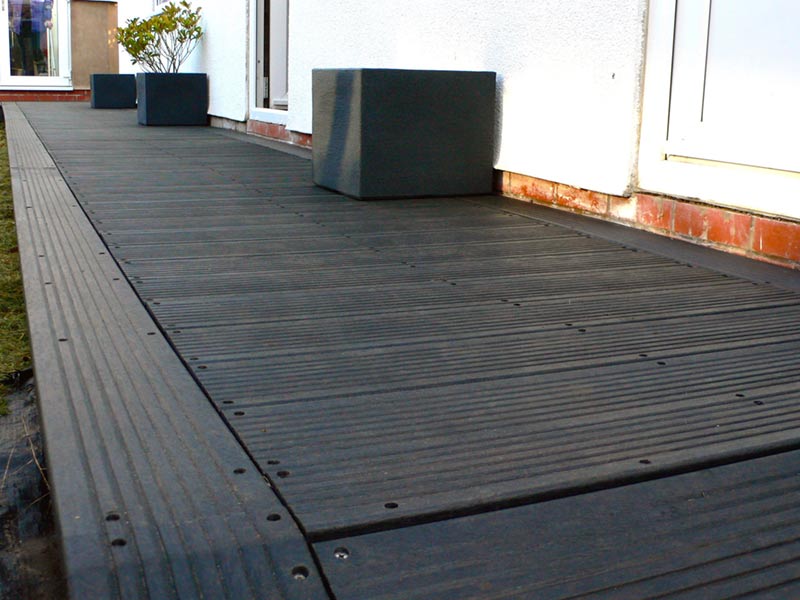 Common uses include coastal and country park boardwalks, jetty construction, fishing pegs, play or recreation areas and equipment, and any application where constant exposure to water is expected. It is perfectly suited to the harshest environments commonly found in coastal environments and can even remain immersed in water with no adverse effects.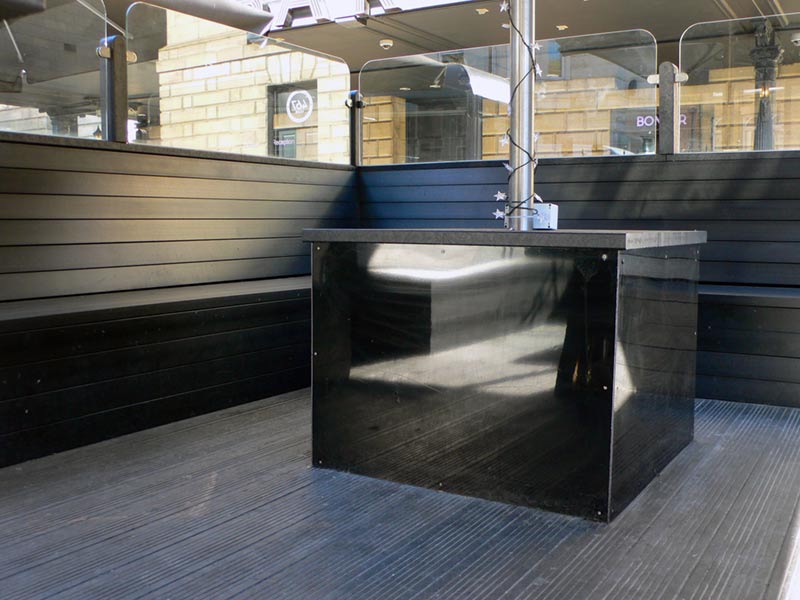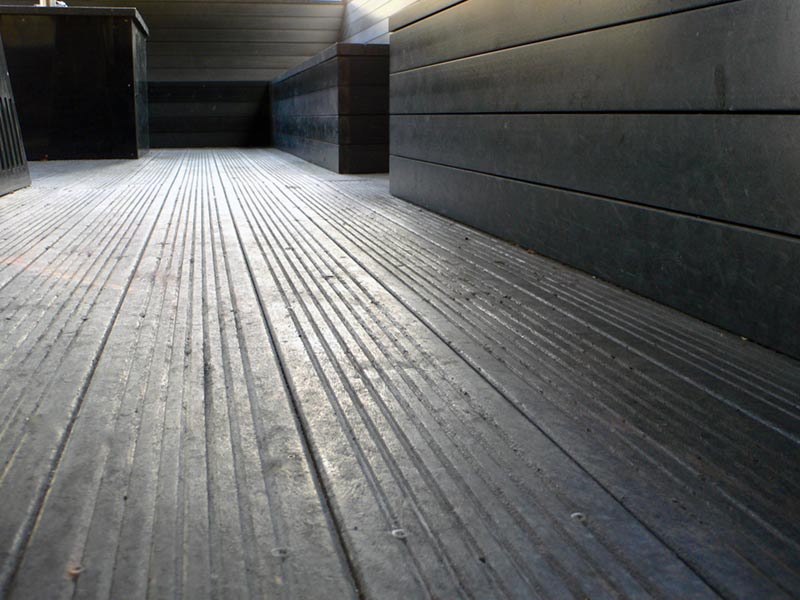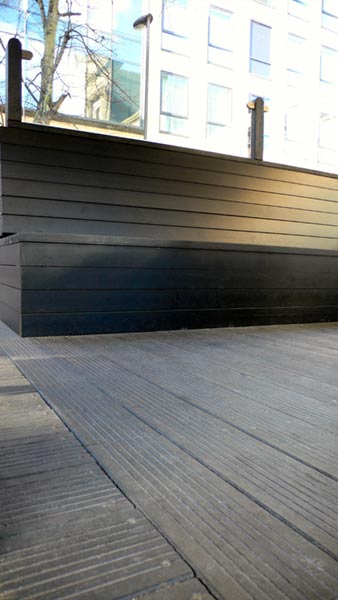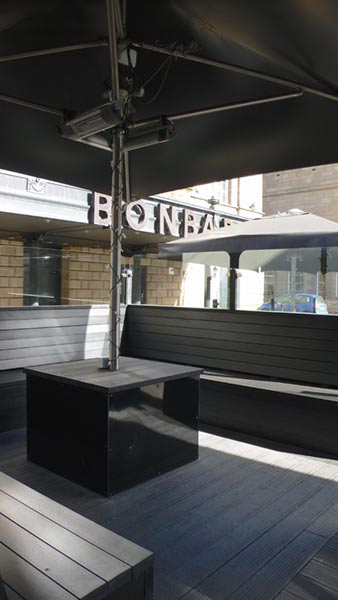 Here, you can see an application in an outdoor drinking area at a hotel in Newcastle which was installed a couple of years ago and is showing no signs of wear or deterioration. The seating was made from Kedel's Award Winning Plastic Wood in Black Walnut. Looking for something a little different? If Recycled Plastic Decking isn't for you, why not check out our colourful Recyclable HDPE Sheets.
Watch our decking case study video: