Greener Eco-friendly Car Parking
5 Comments
Wednesday, 18 July 2012 |
Lewis
Flagging over front gardens - environmental and flooding issues
An article in the Guardian newspaper today commented on a report showing more and more front gardens are being flagged over to allow car parking.
There has been a large increase in car ownership, though only about 4% are actually on the road at any given time. The rest are parked up somewhere. This creation of hard standing reduces habitat for wildlife and also adds to the runoff contributing to flood risks especially in low lying areas or by rivers.
Kedel have been offering an environmentally acceptable solution for some years in the form of drainage and ground reinforcement grids.

These clip together, 9 to a sq metre and will support heavy vehicles including all cars and even fire engines. They can support 16 tonnes axle weight and 250 tonnes per sq metre.
They do not contravene SUDS rules and will not require planning permission, unlike flagging, tarmac or concrete whose run off problems add more pressure to utility companies struggling to cope with higher levels of rainfall and timely removal of surface water.
Kedel's drainage and ground reinforcement grids allow water to drain through normally, reducing runoff on rainy days, and can even be filled with soil and seeded with grass or sedums to create hardstanding for a any vehicles or to make temporary access roads.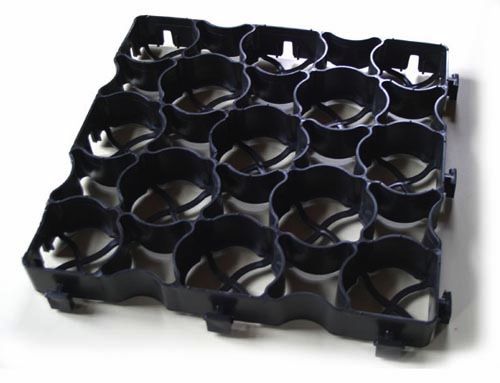 Recent issues of flooding in festival car parking areas could also have been addressed using this simple method.
And to add to these obvious practical advantages the grids are made entirely from Recycled Plastic, made from waste plastic collected from UK households.
So if you want to be greener and still park your car at the front of the house, this is the way to go.
A Toyota service manager I was talking to today said that in just a few years all cars will be hybrids but you will still need somewhere sensible to park yours, so maybe you should be taking a close look at these drainage and ground reinforcement grids.