Kedel Limited receives Feefo Trusted Service Award 2021
Monday, 24 January 2022 | Lewis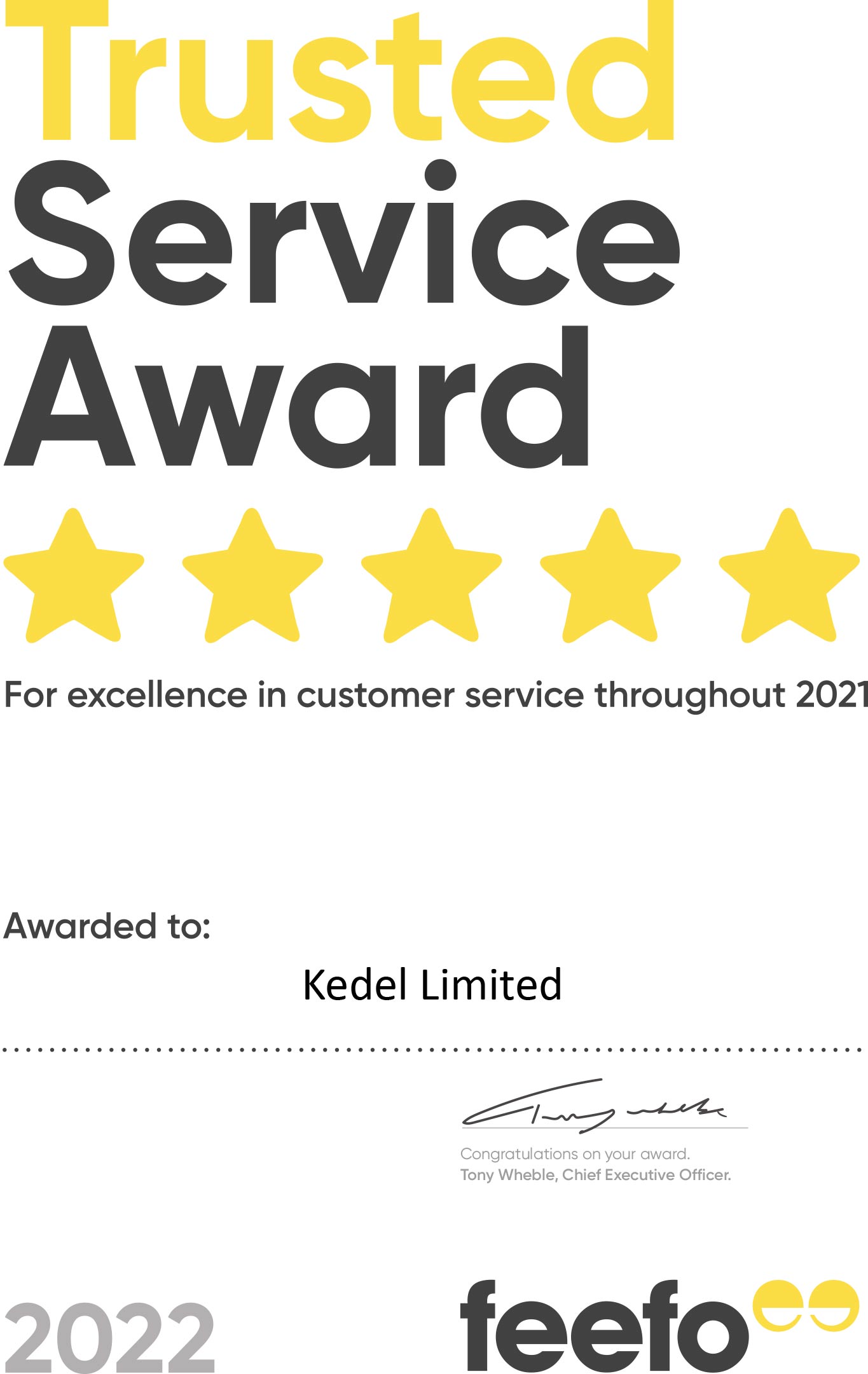 17th JANUARY 2022, Kedel Limited has won the Feefo Trusted Service Award.
Since 2014, Feefo has recognised the businesses who deliver exceptional experiences, using feedback from real customers.
The Trusted Service Awards are unique as they are based purely on feedback from real customers. This means they are a true reflection of commitment to outstanding customer service.
Feefo has given Trusted Service Awards to businesses who have used the Feefo platform to collect at least 50 reviews between January 1st 2020 and December 31st 2021 with a Feefo service rating of between 4.0 and 4.4.
Dermot Walch, Managing Director of Kedel Limited commented: "We're thrilled to receive this award from Feefo. It means a lot because it's based on feedback from our customers and, ultimately, keeping them happy is why we come to work each day. The award also recognises just how hard our staff have worked in really difficult circumstances. We're fully committed to the highest quality of service, so it's vital for us to listen, understand and respond to all our customers."
This award means even more following another difficult year. Online interactions have soared since the start of coronavirus. People are now 40% more likely to leave feedback after a purchase. This has made it very difficult for many businesses who struggled to respond effectively. 43% of people now believe that companies have become less effective at dealing with negative feedback in the last year.
Congratulating Kedel's Managing Director, Dermot Walch, Kim Burgess, Head of Customer Success at Feefo, said:
"The Trusted Service Awards recognise companies who go above and beyond to provide the very best customer experience. I'm so impressed by how our customers have overcome the challenges of the past two years. I can't wait to see what they achieve in 2022."
Dermot Walch replied:
"We were overwhelmed with orders for Recycled Plastic Products in 2021, exceeding our expectations by a wide margin, in spite of Brexit and Covid lockdowns. It was our best year since we started the company in January 2010. So this coming year we expect to break a few more records.
"Recycled plastic is the ideal replacement for traditional building materials and the construction industry as well as the general public are catching on fast. It reduces our dependence on wood, and minimises the cutting down of precious forest that are needed to reduce CO2 in the atmosphere. And as well as being low carbon and eco-friendly the no maintenance features and long life that recycled plastic offers are extremely attractive to anyone who just wants to do a job once. The cost of ownership of wooden products exposed to the weather is frequently not taken into account when pricing up a project. We see this changing rapidly in the years ahead. There are better things to do with waste plastic than throwing it in landfill or burning it for energy. EfW is a dirty solution to waste plastic. Being yet another variety of fossel fuel, it's about as eco-friendly as nuclear waste. We think our approach is better and our customers obviously think so too."
-Ends-
About Feefo
Feefo is a leading global customer reviews and insights platform on a mission to empower its clients to fully understand how their customers experience their product or service.  
The Feefo suite of software, combined with its technical solutions expertise, enables its clients to gain a deeper understanding of customer sentiment, behaviour and intent, empowering them with insights to make better business decisions and improve their return on investment. With 96% of customers relying on reviews to purchase, Feefo also creates trust between consumers and businesses by adopting a unique approach to only collect verified reviews from real people. 
Please visit: www.feefo.com