Sustainable Living: Raised Plastic Garden Beds
Tuesday, 31 May 2022 | Lewis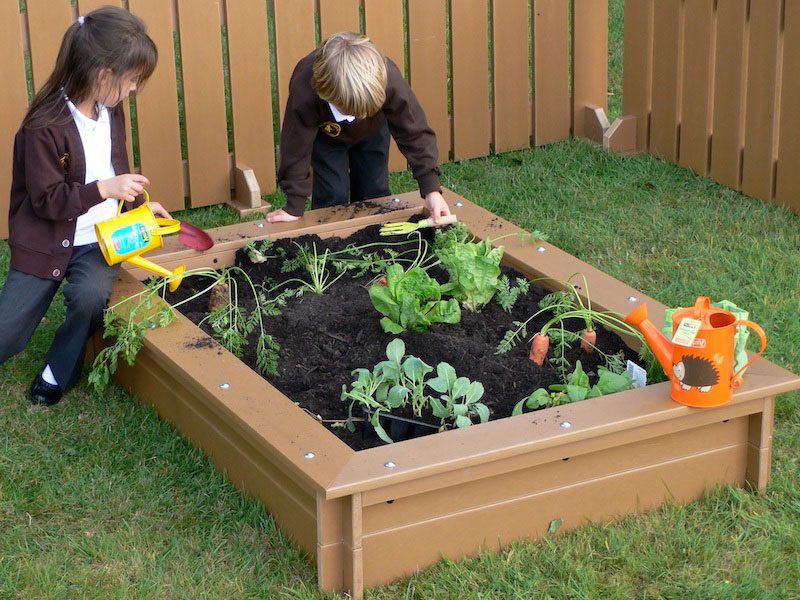 2022 gardening is all about sustainable living, from the produce we grow to the materials we use to grow them. The pandemic caused a significant shift in how we viewed our gardens, with more people than ever spending creating eco-friendly spaces to cultivate and enjoy. One of the biggest movements we noticed was towards sustainable building materials, especially when it comes to recycled plastic. From decking boards and cladding for outdoor bars, man caves and home offices, to recycled plastic sleepers and garden boxes, gardens across the country have embraced this eco-friendly trend.
In this blog, we're going to take a look at one of our favourite products here at Kedel - our recycled plastic raised beds.

What are recycled plastic garden beds?
A raised garden bed is an area of the garden which has been raised above the ground for planting. These versatile beds can be used for a wide range of gardening projects, with the soil held within a study material such as wood, or in this case, recycled plastic!

Why choose recycled plastic garden beds?
With sustainability and eco-friendly living being higher on our agendas than ever before, using plastic beds can be an incredibly rewarded experience. Although there are plenty of other materials suitable for building garden beds, recycled plastic offers a whole host of benefits that outshines the rest. From promoting self-sufficiency to aesthetically transforming gardens and allotments thanks to their modern look, let's take a look at some of the key benefits.
They're incredibly durable.
Recycled plastic is a very durable material, lasting a lot longer than other materials. As well as being resistant to rot, plastic will also not crack or chip, which is incredibly useful when living in a country with sudden temperature changes. Our recycled plastic garden beds are impervious to water, frost, fungi, ice and insects, with a 25-year guarantee on all of our garden boxes.
One of the biggest pros of recycled plastic is that it comes in a range of colours, making it easy to find the perfect match for your outdoor space. From natural wood shades such as oak and mahogany to contemporary black garden beds, you can get the look you want without having to spend time staining or painting your materials. As plastic is so durable, you also don't need to worry about the beds ageing over time.
Recycled plastic is incredibly easy to maintain. Its smooth finish means that you can simply wipe away any dirt or dust that accumulates on the surface, making it a great choice for those that like their garden to look sleek and modern. Once you have started planting in your beds, the easy maintenance continues. As the beds are raised, they significantly improve drainage, reduce the need to weed and make crop rotation as easy as can be. Recycled plastic also encourages healthy plant growth as the material absorbs thermal energy from the sun.
What vegetables grow best in a raised bed?
Raised beds are fantastic for growing a whole host of healthy vegetables. If you're planning on creating your own vegetable patch in a recycled plastic bed, you want to choose vegetables that thrive in that environment. As the soil is above normal ground level, it tends to warm up faster, giving younger plants a head start and promoting vigorous growth. Let's take a look at some of the best vegetables to plant in a plastic garden box.

Find out more about our recycled plastic raised beds by taking a look at our video from the RHS Tatton Park Show. Or take a look at our complete recycled plastic landscaping collection for more inspiration.