'Trade Only' Website to Supply Recycled Plastic Building Materials
6 Comments
Wednesday, 15 May 2013 |
Lewis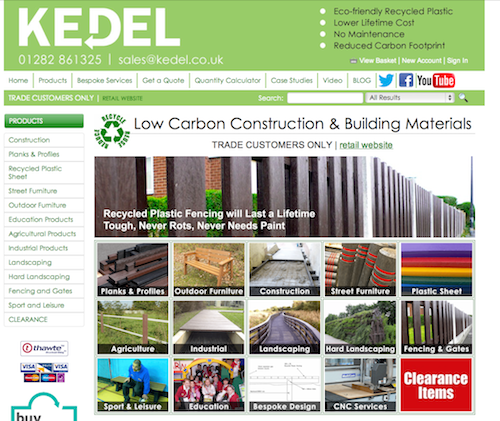 Kedel have launched a new 'Trade Only' website to supply recycled plastic building materials to the building and construction industry.
Use of Recycled Plastic building materials has been growing steadily since the signing of the Kyoto Agreement on climate change.
Recent studies by the UN's Intergovernmental Panel on Climate Change indicate grave dangers of rising sea levels that could overwhelm the Thames Barrier by 2100, flooding the capital.
Reducing our contribution to global warming is an urgent matter that is beginning to focus minds.
Kedel supplied Recycled Plastic Decking to Sir John McAlpines for the construction of the Arcelor mittal Orbital Tower at the 2012 Olympics in London.
New building regulations necessitated the use of recycled plastic decking to help reduce the carbon footprint of what is now, the tallest sculpture in the UK.
Besides government legislation, the increasing use of recycled plastic materials in the construction industry is driven by persuasive practical advantages, and substantial lifetime cost saving benefits.
Recycled Plastic Building and Construction Materials do not rot or need painting regularly, keeping housing stock from developing that often seen 'run down' look.
Recycled plastic materials last at least 5 times longer than treated wood.
Local Government and Housing Associations are reducing their maintenance and replacement budgets as much as 80% by installing recycled plastic fencing and T&G back gates in recycled plastic wood.
"A new Kedel Trade and Wholesale Website was necessary to serve the growing demand for recycled plastic materials from the building and construction sector", says Dermot Walch, Kedel's Sales and Marketing Director.
"We started out 4 years ago retailing recycled plastic products, but without knowing what level of demand would come from each market sector.
We've had exponential growth in all areas - retail, education and construction.
"Each market has different needs. So we've created a shop front to meet the different expectations of our growing customer base so we can serve them better.
"A trade website, with a broader range of Recycled plastic product categories for the construction and building industries clearly displayed, means you can find what you are looking for quickly," explained Lewis Walch, Co Director and Customer Service Manager of this wholly family run business.
"Our fixed discounts based on total basket value helps too", he added.
"This makes life simpler for our trade customers, saving them having to wait for quotes, as they can quickly calculate the overall cost of a project without waiting for a response from our sales team.
Based on a lifetime in the building and construction sector, Kieran Walch, Kedel's Production Manager, was keen to emphasise the one-stop-shop value of the new Construction Trade Website:
"We've given construction professionals an online 'One-Stop-Shop' for everything in Recycled Plastic that the Construction and Building Industry might need, at the discount levels they expect for buying in bulk."
A simple form can be filled in online to apply for a 30 day trade account.
For Quotations, Technical Specifications and Advice E-mail or use our convenient Online Quotations Form.