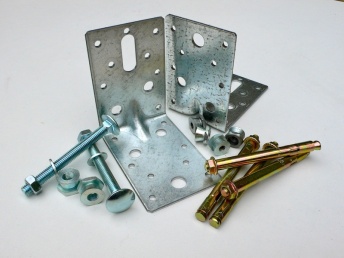 Ground Anchor | Security Kits for Outdoor FurnitureFrom: £21.00
Ground Fixings (Simson Strong Ties) for benches and picnic tables - short bolts for fixing to flags, or longer bolts for fixing into concrete. These will help deter thieves from absconding with your outdoor furniture. No guarantee is implied, as determined rascals with the right tools can remove any kind of security, but you don't want to make it easy for them. All components made from rust resistant steel and supplied with shear nuts whose outer section breaks off once tightened, making them impossible to remove with a spanner or socket set.


Ribble Picnic Table - Bullnose Version£650.82
Maintenance-free, British designed, eco-friendly Recycled Plastic Bullnose Picnic Table. Comes with a wood-like grain finish and is available in Black with the option for extended legs. 25 years guaranteed.


Ribble Picnic Table | Recycled PlasticFrom: £575.58
Like the River Ribble it is named after, this Recycled Plastic Picnic Table will last a very long time with no maintenance. Made from tough, durable recycled plastic it can take a beating and endure all weathers. Our most popular picnic table so far. The 1.5m table recycles around 255 four pint plastic milk cartons and the 2m version recycles approx 375.