Cutter Screws - Yellow Passivated£15.59
Yellow Topicalised. Lubricated and Part threaded for extra tightness. Ideal for all our Plastic Wood and Mixed Plastic Products. Very Long Lasting.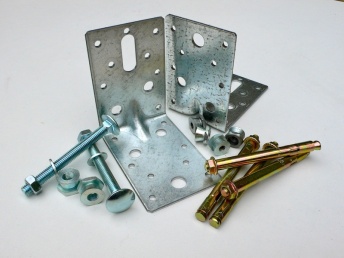 Ground Anchor | Security Kits for Outdoor FurnitureFrom: £21.00
Ground Fixings (Simson Strong Ties) for benches and picnic tables - short bolts for fixing to flags, or longer bolts for fixing into concrete. These will help deter thieves from absconding with your outdoor furniture. No guarantee is implied, as determined rascals with the right tools can remove any kind of security, but you don't want to make it easy for them. All components made from rust resistant steel and supplied with shear nuts whose outer section breaks off once tightened, making them impossible to remove with a spanner or socket set.


50mm Premium RIMLOCK Double Locking Bolt£60.63
Simple, reliable stainless steel lock for gates and doors.


Deck/Timber Screw£15.00
Available in Box of 200 and 2 sizes: 4.5x50mm, 4.5x75mm. Ideal for Recycled Mixed Plastic.