Recycled Plastic Vs Wood
Not sure about recycled plastic? Still need some convincing? Here we pitch wood vs recycled plastic and show you the key benefits of choosing this eco-friendly alternative.

Cost/Time Savings
Recycled plastic also offers cost savings when compared to wood. The zero maintenance also means less time spent on repair work or replacement.
Recycled plastic furniture can last 50 years or more without maintenance
Recycled plastic products are cheaper in the long run compared to wood products due to no maintenance costs.
Recycled Plastic doesn't rot, crack or splinter and lasts at least 5 times longer than treated wood.
Recycled plastic is also insect proof, meaning you don't need to deal with woodworm issues.
With wooden decking and outdoor furniture, maintenance is often required annually and replacement every 7 years.
Most wooden decking needs maintenance in as little as 2 years.
The slightly higher initial price of recycled products is quickly returned through long term savings in maintenance and replacement costs.
Survey by Gardening Express found that we renew our decking six times during our lifetimes at the average total cost of around £9,000.

Look and Appearance
Recycled plastic maintains it's appearance for much longer than wooden alternatives.
The finished product looks great for a lifetime.
High levels of UV protection mean fading is only around 5% over 10 years
With recycled plastic decking, algae is highly unlikely.
Recycled plastic is also a lot more vandal proof, can't be kicked in or damaged as easily as wood
Eco/Environmental Benefits
Choosing recycled plastic over wood or new plastic offers a multitude of benefits for the environment.
Recycled plastic uses 66% less energy than new plastic.
Recycled plastic can be recycled again, so stays out of landfill even after use.
Makes use of waste plastic such as packing materials, plastic cups, milk bottles, CD cases, old buckets, coat hangers and polystyrene.
Can help prevent trees from being chopped down, helping retain forests and natural woodlands.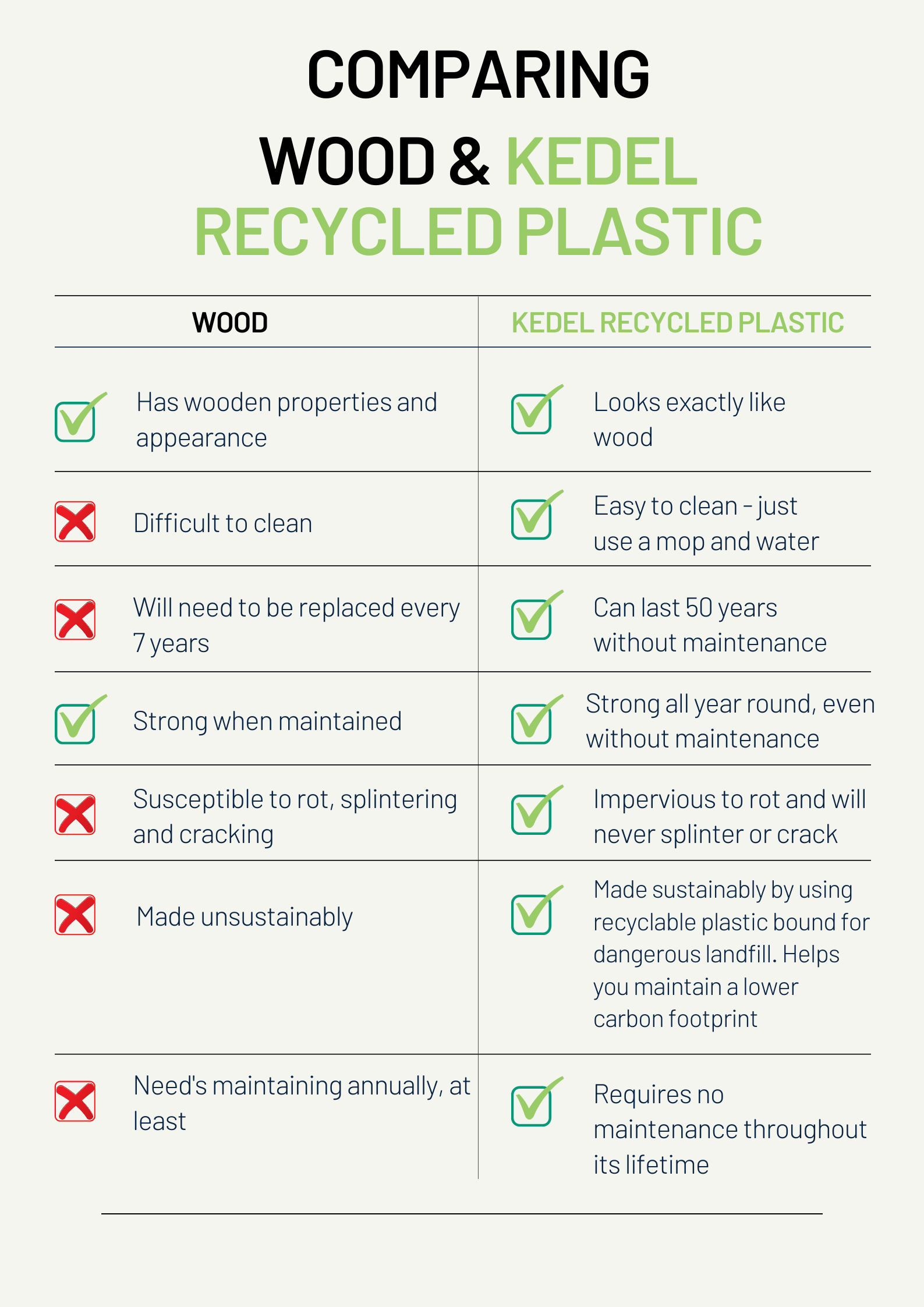 You can shop our full range of long lasting, eco friendly garden and landscaping products. From recycled plastic decking board, to recycled plastic fencing, gates, cladding and more. We supply everything you need to landscape your outdoor space and update your garden.