Home Schooling: Using Your garden
Monday, 8 February 2021 | Lewis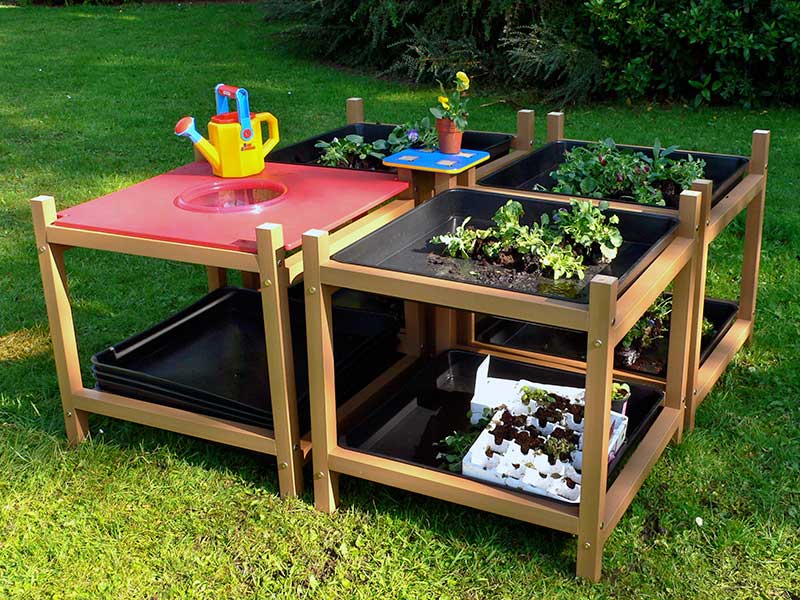 Homeschooling is tough, especially after almost a year of doing so. From planning homeschool schedules to playing teacher, there's so much to do to ensure your child is learning adequately at home.
Being stuck inside this long has probably helped you develop a cosy homeschool environment by now, but have you ever thought about how you can use your garden to influence their learning too?
Getting outside has many benefits for both child and parent/guardian, and even opens doors to what else can be taught whilst at home.
Today, we're sharing some of our favourite ways to incorporate the garden and outdoor space into your child's homeschooling schedule, as well as for after the school's have returned.
Science lessons
The garden is the perfect place for a science lesson. From the ability to show live examples of photosynthesis to the perfect stage for experiments, the garden provides plenty of opportunities for an interesting and exciting lesson.
For example, take a look at the flowers in the garden and show your children how the combination of sunlight, water and co2 allows photosynthesis to take place and therefore create oxygen that goes back into the air. For a lot of children, being able to visually understand the process will help with their understanding of the topic, and help them remember it for exams and the future.
Recycled plastic decking from Kedel makes for the best place for outdoor experiments. Easy to clean due to its plastic properties, our plastic decking doesn't rot, crack or splinter, meaning that mess and dirt from experiments can't get stuck within imperfections within the material.
Gardening skills
The beauty of homeschooling is that you can incorporate your spin on topics and activities, and there's nothing better than teaching your children how to garden and grow their own fruits, vegetables and flowers.
While gardening might not be taught at every school, it's a vital skill that will stay with your children for years to come.
Using recycled plastic planters designed especially for children, you can get your children into gardening. These raised beds have many benefits, with one being the fact that children can sit down and work or stand without having to peer or reach too far to be able to garden efficiently.
You could also start gardening and other garden-based activities in our garden exploration table, which provides space and facilities for playing with sand and water as well as gardening.
There are many different things you can teach your children to grow, including the likes of carrots and potatoes as well as various fruits. For advice on growing fruit in the winter months, take a look at our handy guide now.
Wildlife watching
Taking time to look out for the wildlife that comes into your garden is a good way for your children to learn about different habitats, food chains and the animals themselves.
Go bird watching and make a note of all the different birds you see in the garden or take a closer look at the worms in the soil and how they play their part in ensuring water gets into the soil and plants.
Even if you don't think your garden is that exciting, I guarantee if you take a closer look, it'll be a lot more interesting than you first imagined.
The Beastie Box from Kedel is the ideal addition to your garden if you're looking to attract more wildlife. Consisting of a raised bed for gardening, a bird box, bee box, insect corner and butterfly box, it's made with recycled plastic wood which will never need to be replaced or re-painted.
PE
While it might be too cold during the winter to take PE fully outside, it's a good idea to at least spend some time outdoors to stretch and run around without the fear of crashing into furniture.
Children can't always get the full PE experience indoors, but safety and comfort should always be the top priority when heading outside.
This is why it's important to ensure that any outdoor surface where PE and exercise are taking place is safe and slip-proof. Many people have wooden decking in their garden, and while this may seem like a good place for moving around, it's incredibly prone to algae and dangerous, slippery conditions.
We recommend using recycled plastic decking in your garden, especially if you and your family will be using it a lot. Recycled plastic decking is resistant to algae and can last over 50 years without maintenance, saving you time and money in the long run, as well as protecting your family from slips and falls.
Art and activities
It's always a good idea to do art outside, as this can prevent paint from splattering the walls in the kitchen or glitter from getting into your carpets! The garden also brings in the opportunity to use different art mediums: try dipping sticks into the paint and drawing with them, or using crayons to trace a leaf!
Similarly, the garden can be used for a wide variety of other activities that you simply don't have space for inside.
Outdoor play furniture from Kedel provides hours of fun, including outdoor play barns and outdoor kitchen play units. While some outdoor playing equipment isn't able to be kept outside due to rot in the winter and rain, our range at Kedel can be kept outside all year round as they will never rot, meaning that they can be kept in the family for children to use for generations to come.
For more information on our raised beds, see our video below, in which Lewis explains it's key features and benefits.
Homeschooling doesn't have to mean that you and your children are stuck inside all day, and getting outside can have a massive impact on health as well as happiness and motivation levels.
For more recycled plastic materials and products, browse our full range today and discover everything from recycled plastic wood planks to recycled plastic picnic tables.