Recycled Plastic Picnic Tables
We all love wood. We like the look of it, the feel of it, the smell of it and the naturalness. So there is really nothing wrong with wood at all. However, having said that, there is a not insignificant matter of maintaining its looks. Exposed to the elements wood that looks great when new begins to need attention to keep it at its best - lots of attention and time and effort. And we don't always have time to spend sanding and painting our picnic tables. Here is a really good solution, choose a recycled plastic picnic table which looks and feels like wood, but will NEVER rot, does not crack, is impervious to frost and does not absorb moisture. When it rains you can wipe it off with a cloth and sit down immediately without getting a damp bottom. And there are no splinters to get into little fingers either.
Recycled plastic picnic tables are UV protected, so they don't fade in the sun over time. People who have had these picnic tables or anything else made from this recycled plastic wood (synthetic wood) say that weathering from exposure to the elements makes it even more like wood. We have had people complain that products we sent them were not as described because they believed we had sent wood and not recycled plastic. That is how good our recycled plastic wood is.
Our mixed plastic picnic tables are very good value too and are extremely robust. They are heavy and will not blow away in a gale and no one is going to find it an easy task to run away with them. So if you want to reduce your carbon footprint, and get a maintenance free quality product for your garden, landscaping or construction project this is the place to find it. Alongside our picnic tables, we also supply recycled plastic chairs, ground reinforcement, bollards and more.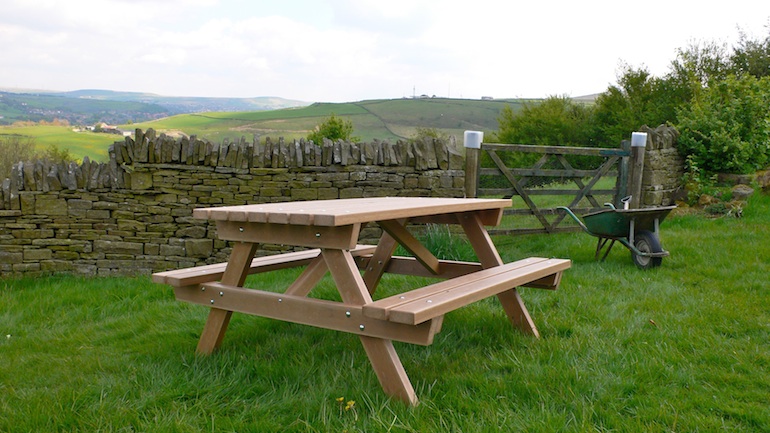 (This picnic table is 100% Recycled Plastic)