Brass Effect Remembrance Plaque - Memorial Plaque£40.00
Add a commemorative plaque to your outdoor furniture with up to 35 letters. Made from tough brass effect plastic less prone to tarnishing. Supplied with 4 screws for easy fitting but normally fitted during bench manufacture. Polished brass plaques available on special request. Call 01282 861325 to order.


Derwent Recycled Plastic Picnic Table | Picnic BenchFrom: £598.00
Named after the River Derwent this Recycled Plastic Picnic Table will last for decades. Made from crushed CD cases. Water, frost and insect proof it will never rot, warp, crack or splinter. Available in Red, Blue, Green, Yellow and Multicoloured.
UV protected against fading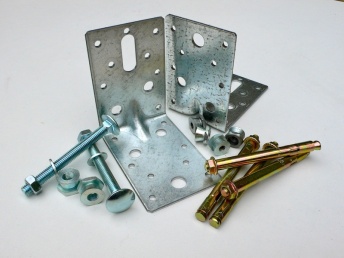 Ground Anchor | Security Kits for Outdoor FurnitureFrom: £21.00
Ground Fixings (Simson Strong Ties) for benches and picnic tables - short bolts for fixing to flags, or longer bolts for fixing into concrete. These will help deter thieves from absconding with your outdoor furniture. No guarantee is implied, as determined rascals with the right tools can remove any kind of security, but you don't want to make it easy for them. All components made from rust resistant steel and supplied with shear nuts whose outer section breaks off once tightened, making them impossible to remove with a spanner or socket set.