Winner of Best Recycled Product 2015
Tuesday, 7 July 2015 | Lewis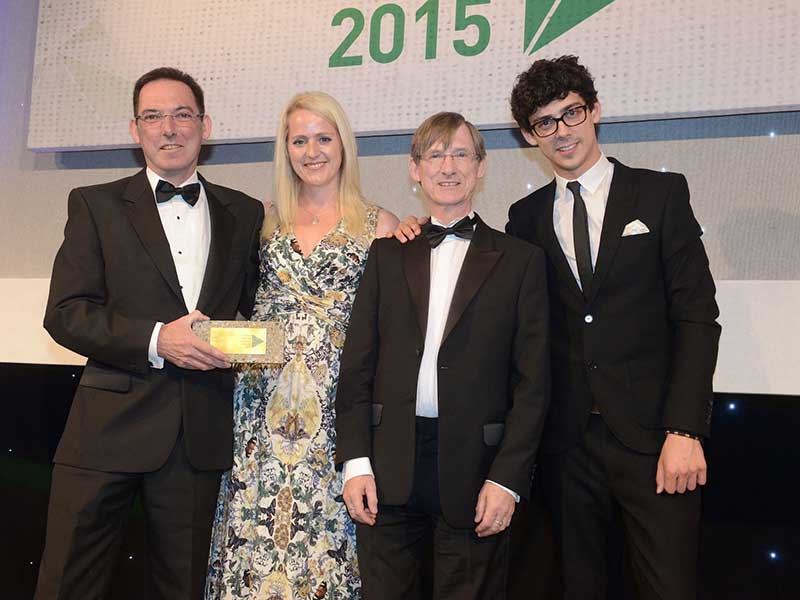 Left to right - Dermot Walch, Kedel MD | Dr Jane Beasley, Judge of Best Recycled Product Award | Lewis Walch, Kedel Director | Matt Richardson, Stand-up comedian and former co-host of the Xtra Factor, who hosted the award ceremony at the London Hilton, Park Lane
The 5-year-old family business, Kedel Limited, founded by Bolton brothers, Kieran, Dermot and Lewis Walch, is celebrating the triumph of its versatile plastic wood product at the National Recycling Awards held on 1st July 2015 at the London Hilton, Park Lane.
Made from recycled CD cases, contact lens cases and old coat hangers their synthetic wood has the same weight and density as some South American hard woods and can be worked with normal woodworking tools.
This beautiful maintenance-free alternative to traditional building materials is used for cladding, tongue and groove and fascia boards, fencing, back gates, and bin cupboards and can be manufactured in any RAL colour. Bright primary colours are often used for school and nursery products such as round top fencing pales.
Kedel attracted the votes of the judges not only for the product itself but also for their ingenuity and creativity in turning it into so many different products for a range of market sectors.In addition to supplying the building and construction industry with lumber, Kedel combine their plastic wood with several other types of recycled plastic to make garden benches, picnic tables, colourful outdoor furniture and play equipment for education, chairs and patio tables specially designed for the over 50s and more.
Their in-house design team and CNC facilities are constantly in demand for specialised products for education and industry such as beautiful outdoor kitchen units for nurseries and custom made pallets on wheels for Alstom, the train and rail maintenance group.
For information and advice please contact Gordon Shorrock, Sales Manager, on 01282 861325 or email.